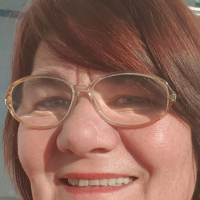 Jacqueline Mead
Children's, Poetry
Profession

Author, Poet, Project Manager
I am 58 years old a Mother of 3, two boys and a girl and Grandmother of 3, two boys and a girl, with 2 further grandchildren on the way between now and Feb 2020,
I am the Author of 3 Children's books Two Princes and A Princess.
In Book One they Fly to the Moon
In Book Two they visit the WildWildWest
In Book three they Visit Lapland

In addition to writing, I love to read, I love writing Poetry, love to cook, attend music events/festivals, travel and I love Rugby, Football, Cricket, F1 and Speedway.
I am mad on Elvis and recently visited Memphis, Grace lands, Sun Studios and Civil Rights Museum and New Orleans.

I am a member of several Poetry websites including Realistic Poetry International and Hello Poetry.
Take no heed of her.... She reads a lot of books.
Jasper Fforde